Commercial Roofing for Florida Institutions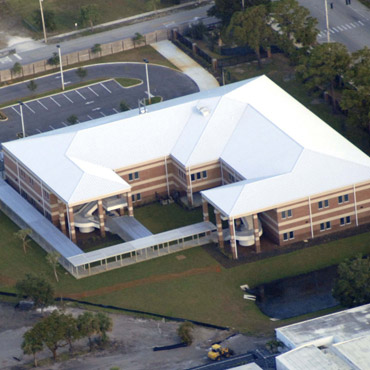 As an institution owner or manager in the Central East Coast of Florida, you want a reliable contractor like The Roof Authority to handle your roofing project so that you can worry about more important things. We're a Florida state-certified roofing contractor that has been committed to roofing excellence since 1993. Experience matters when it comes to a large-scale commercial roofing project like yours, and projects like that happen to be our specialty. We pride ourselves on professionalism and quality from start to finish, and all new roofs are backed with a 20-year manufacturer's warranty. If you're looking for the leading local authority on commercial roof installations, repairs, and maintenance, you've come to the right place.
Commercial Roof Installation
A new roof installation project is an intensive undertaking, so wanting an expert to handle installing a new roof at your institution is only natural. Our employees adhere strictly to safety standards and attend weekly meetings so that we can stay up-to-date on the latest industry developments and procedures. The Roof Authority is licensed, bonded, and insured, and our workmanship is guaranteed. You can browse our portfolio for examples of similar projects we've completed in the past.
Commercial Roof Repair
Roofs are built to last, but even the strongest roof will occasionally need a repair when faced with hurricane winds, hailstorms, and constant sunlight. At The Roof Authority, we pride ourselves on a quick response time in case of emergencies like a leaky roof. We're also happy to inspect roofs following a storm to check for any damage that may not be immediately apparent. Whether you have signs of water damage like mold growth or black streaking or structural issues like missing shingles, we can provide a quality roof repair that will have your damaged roof functioning like new.
Get an estimate for your institution's commercial roofing project from The Roof Authority today! We proudly serve Central East Coast Florida, including Vero Beach, Fort Pierce, Melbourne, and surrounding areas.